I have a few extra ponies I'd like to trade. PM me if you need more pics. ♥
Rosedust: excellent condition ON HOLD
Forget-Me-Not: excellent condition- ON HOLD
ON HOLD
Ponytail ponies set 2-Pink w/aqua hair (curly tail); lavender bow; purple brush & comb
Her tail looks like it's been cut and is very frizzy; her symbol is rubbed halfway off. 2 spots on NDS.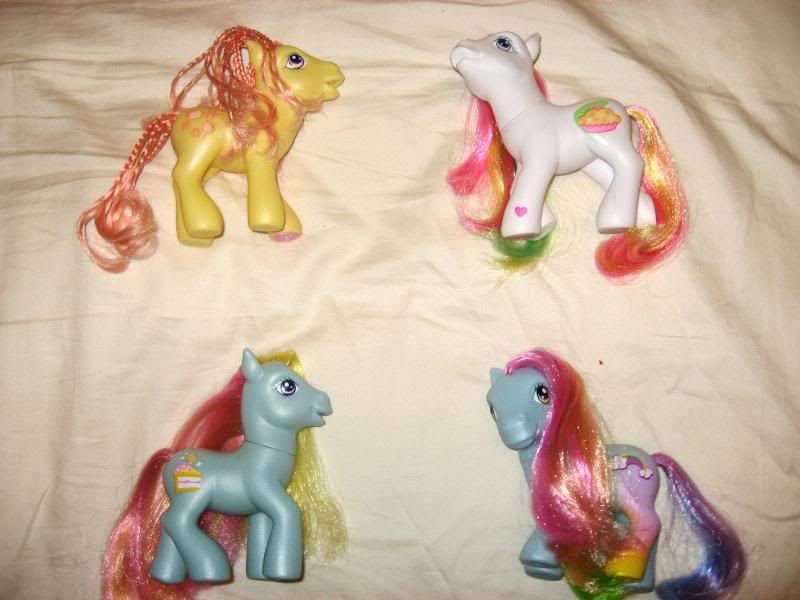 Peachy Keen: Excellent condition
Coconut Creme: Small scuff on her neck
Party Cake: Still scented. Mark on NDS eye. Scuffs under NDS eye
Rainbow Dash cascading leg: excellent condition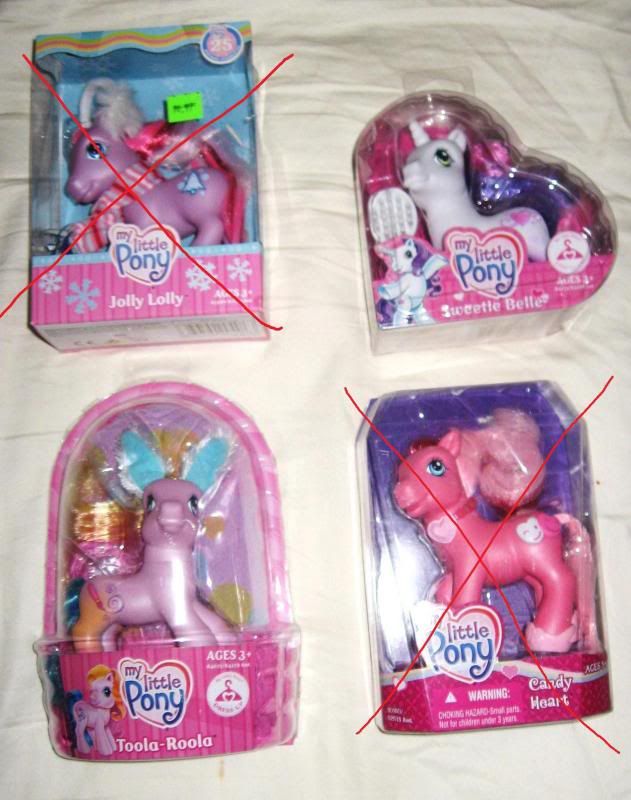 Toola-Roola and Sweetie Belle: MIB
Spring Parade: excellent condition
Beachberry: excellent condition
Lovey Dovey: excellent condition
Rhapsody Ribbons: She has a few tiny pen marks on the NDS
Strawberry Surprise: In great condition. Her hair is a little coarse. She is still scented.
Wish-I-Might: Discoloration on her rump, above cutie mark. Tiny green dot on NDS.
Baby Hula-Lula: small scuff on display side front hoof.
Baby Goody Gumdrop #1: Pink discoloration on top of head and NDS front hoof
Baby Goody Gumdrop #2: Yellowed. No other visible flaws
Here is my want list:
November Chrysanthemum birthflower pony
Tropical Delight
Super long hair ponies (I need most of them)
Babies:
Boogie Woogie
Charm Bracelet
Lavender Locket
Northern Lights
Ocean Dreamer
Ribbons and Bows
Winter Ice
Dance Around
Mochanut