Joined

Jun 7, 2005
Messages

465
Awards

0
I had been looking for the headbands with the long hair. I want a turquoise one for a costume I'm making. I started at Dollar Tree because they had TONS of them the last time I was there.
Yea. No luck. They had completely changed their store in the short two weeks it had been since I was there. Much of their inventory was different but there was a bonus find on my search for hair...
Fakie Divine Shine pony!!! Pity they only had two left and in lime green. I shall have to keep an eye out for new glittery love. Custom time!
It was time to move on and keep searching for hair-headbands. Next stop was Dollar General. They have them! I know it!
Only in pink and dark purple. No luck there either accept...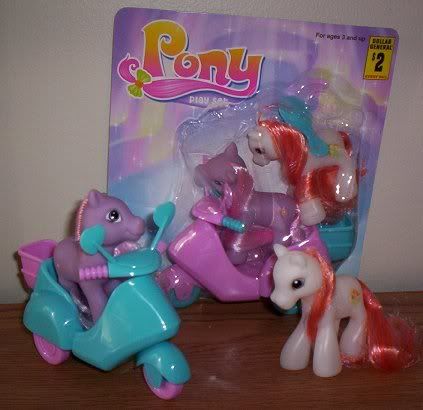 Baby pony scooters!!! If you think the quality of fakies are pretty low much of the time, trust me on this, these fakie ponies aren't even worth customizing. They are just misshapen, squishy, lumps of what can only be jokingly called 'pony' in the vaguest sense. But the scooters are great. Go figure.
Last edited: