Rockabilly husky tamer
Moderator
Joined

Jun 10, 2005
Messages

5,246
Awards

1

THE MLPTP'S 2014 HALLOWEEN SWAP

​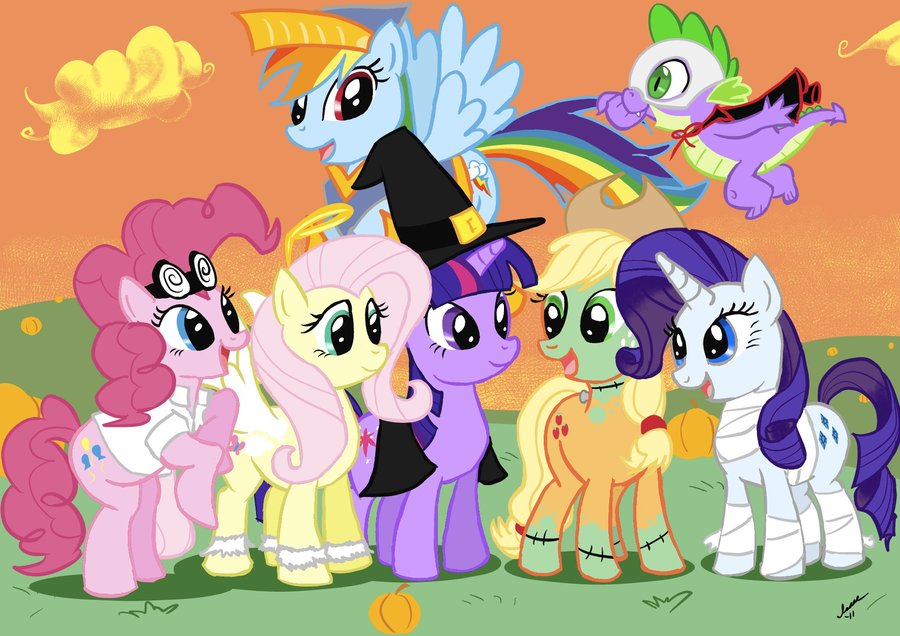 This is super exciting, since it will be our first (of many) swaps on the new board!
​
How does it work?
Everyone will send/get one or several ponies from their wishlist, along with Halloween goodies. The package must also be wrapped with Halloween decorations, etc. It's all about spooky fun, fun, fun!

Rules

​
There is a spending range for this swap, which is $25-$30 (including pony/ponies and extras)
You must include a pony in the package.
All items must be wrapped. Think about it... how FUN is it to unwrap gifts?
Delivery confirmation or receipt of sending is required! This way if something is lost, we're not mad at you, but it will be the post office's fault. For international shipping, as long as you keep proof of postage, you are OK.
When shopping for the pony, keep in mind that it should be in as near MINT condition as possible!

Send a package that you would be thrilled to receive yourself.

General MLPTP Swap Rules

​
Active MLPTP Membership 1 month
Post count 50+
Great feedback, with at least 5 good feedback points here or in another forum. If you only have ebay feedback, you must have feedback selling, not just buying.
You must not have any negative feedback on your feedback profile.
Over 16 ( This requirement may be waived providing there are exceptional circumstances or a sponsor can be provided. PM me if you're under 16 and you'd like to enter so we can chat about it.)

Step 1: Registering for the swap

​
Send a PM to me by copying the form below.
2014 Halloween Swap Registration Form:
MLPTP Member Name
Where can I check your feedback? (MLPTP, ebay, other forums, etc)
Full Name and Mailing address
Will you ship internationally?

Step 2: The wishlists

​
Once you're accepted into the swap, post your wantlist in the designated thread.
Wishlists need to be for

at least 20 ponies (or more)

, or at least close if you can only think of, say 10. Please be sure to list those ponies that fit within the spending limits. If you wish to price check please post in discussion.
Let us know which flaws are totally unacceptable to you.
Let us know which flaws are ok with you.

List any allergies you might have, as well as your likes or dislikes. Since sending extras is part of this, you want to make sure you receive something you will thoroughly enjoy.

List what you love about Halloween, what you do, anything that might help your partner prepare a package for you.

You must PM me when:

​
You have any questions.
You want to sign up.
You mail your package (you must include tracking info)
You receive your goodies
Whenever there are any issues or delays. I understand real life might play tricks on you, and that's OK, just keep me posted so nobody freaks out.

Important Dates:

​
Signups : Closing on

September 6th

Feedback checking: I'll do it as people register, and will wrap up on

September 7th

for last minute participants.
Swap partner assignment :

September 7th - September 9th

Shipping deadlines:

International :

October 6th (noon)

Domestic :

October 17th
Participants

tsukikakushi

- SHIPPED

- RECEIVED

Gingerbread

- SHIPPED

- RECEIVED

MustBeJewel

- SHIPPED

- RECEIVED

darcerin

- SHIPPED

- RECEIVED

Candice88

- SHIPPED

- RECEIVED

Littledreamer - SHIPPED

- RECEIVED

Syd_Jade

- SHIPPED

- RECEIVED

Marble Dragon

- SHIPPED

- RECEIVED



LittleSpiffy

- SHIPPED

- RECEIVED

Moondream

- SHIPPED

- RECEIVED

MlpMommy4Life

- SHIPPED

- RECEIVED



*Paradise Island*

- SHIPPED

- RECEIVED

SweetieBabyFizzy

- SHIPPED

- RECEIVED



Teen Mermaid

- SHIPPED

- RECEIVED

Peppermint Truly

- SHIPPED

- RECEIVED
Last edited: