Joined

Aug 4, 2005
Messages

447
Awards

0
UPDATED: November 12, 2010
I've been taking an oil painting class at
Art Magic
( Karen offers classes for adults as well as for kids ).
Given that I already have an understanding of basic painting, shadowing and color theory, all she had to do was help me understand how to use oil paints as opposed to other painting mediums. As far as subjects go, I've been given free reign for this second piece.
I've been wanting to work on a deer-like unicorn painting for some time, without using my usual techniques, so I thought what better opportunity then in this class! So for my second oil painting ( ever ), I'll be working on a deer-like unicorn, loosely based after the idea of the tapestry unicorn being bridled and roped. However, it has broken free somehow and is loose in the forest ( leaves, bushes and vines will be sketched in before the next class ).
Yes, I'm cheating a little with this piece. I did do the initial roughs on the canvas board in class, however, I want to be able to really "map" this piece out nicely, so I've imported the photo taken with my Blackberry's camera into ArtRage Studio, set my "canvas" texture, and cleaned up the roughs.
Transferring the cleaner image back onto the canvas board will be no problem. I just take out the photo layer, enlarge the penciled layer a bit to fit the actual size of the canvas board, print the pencils, rub charcoal or a dark pencil all of the other side of the print out, tape the print out onto the canvas board, charcoal side against the canvas, then redraw over the pencil print out to transfer the pencils to the canvas board.
Easy!
However, I'd appreciate some helpful critiques and suggestions for the piece! Throw your thoughts and suggestions my way, please! And don't be afraid to rip into it!
---
New Notes for Nov. 12, 2010!
Still haven't added the background foliage yet, but I wanted to get the unicorn re-worked first, following MOST of the rocking critiques I received on the MLP Arena and the TP ( come on, DA people, step up to the plate with the critiques already! ).
The horn has been thinned out and re-curved ( heh, thank good for perspective studies from a crappy phone camera shot of a crappy unicorn toy at Michaels! XP ).
Ears have been lowered, to make them more deer like, and he now has a full beard and shaggy neck, as well as a trail of short fluffy hair that goes down the length of his spine. Hindquarters have been lowered a touch, belly rounded out more, and bent leg bone straightened out.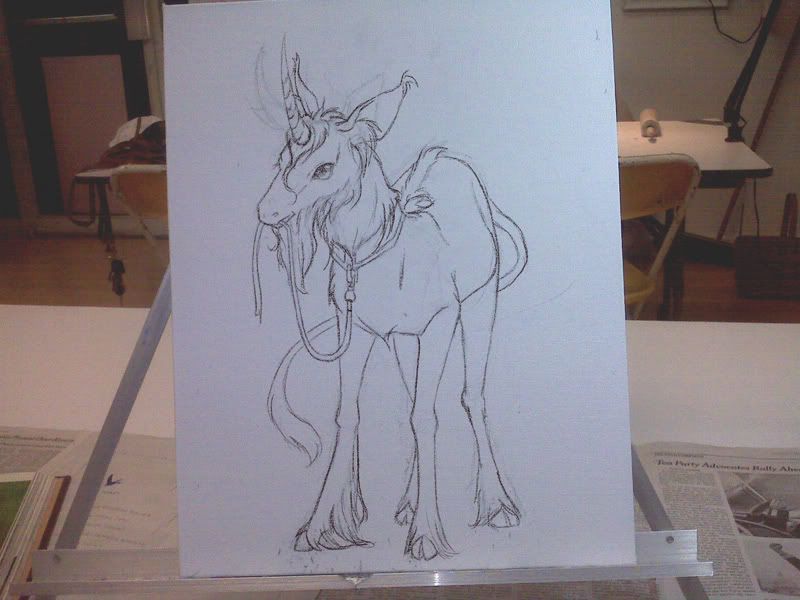 ~~Bee
Last edited: