So Soft Pony, So hard to clean
MLPTP Supporter
Joined

Jun 19, 2005
Messages

1,973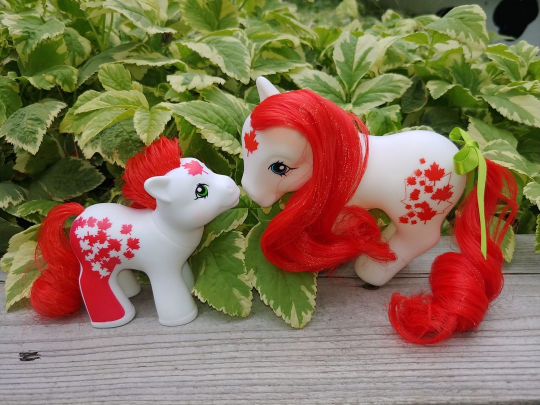 UPDATE: May26th. We are in a holding pattern, if things open up before November the event will be help if not then it will most likely be postponed again.
UPDATE: April 1st: We are pending news for our 2021 event soon.
UPDATE: Feb 18th. Our 2021 Maple pins are now available at 15$ each. We have so many prizes for 2021 it is getting crazy. Do you think they should be given away online if the event can not take place OR held over to 2022?
UPDATE: dec 17th a very tiny amount of maples left. We still have lots of buttons, 3 different kinds of stickers and a magnet available. 2021 is looking to be insane with the amount of crazy amazing prizes we are going to have.
Buy your exclusive Maple merchandise here!
https://www.mlptp.net/index.php?threads/hqg1c-canada-maple-for-2020-is-here.114829
UPDATE Oct 10th. qty 8 Grad B Maples left. These are reduced in price to 35.00.
UPDATE Sept 28th. We have qty 21 Grad B Maples left. These are reduced in price to 35.00.
UPDATE Sept 9th. Only 37 Maples left
UPDATE sept 2 2020: Our new Maple for 2020 and our new pins have arrived and are available for purchase. Maple is 45.00 and the pin is 15.00. Send me a message if interested or contact me on fb.
UPDATE #2 Aug 8th. we have 2 raffle prizes up for grabs... a new power rangers pony and a new transformers pony... we went live and showed the completed pony room.... a more complete video is going on youtube very soon.... come and download the blank pony template to design our future Maple mascot,,,, we might just get her made
UPDATE: AUG 8TH. Good morning fellow pony collectors. Since we can not publicly have our event this year 2020 we will just have to do it online. Today there will be some fun activities to take part in, prizes to be won and perhaps a pony room tour. Please head over to the extravaganzas facebook page to take part in them
EDIT:
Sometimes the wheels fall off your plans! The Canadian Pony Collectors Extravaganza will be postponed to 2021. The exact dates will follow soon. However there will be online activities and events to look forward to. Including a new exclusive Maple. Attendees / vendors who have prepaid can get a refund or have there space carried over to 2021. Please stay safe pony friends.
We are pleased to announce that the 3rd annual Canadian pony collectors extravaganza will take place on August 8th 2020 in Greenfield Park, Quebec.
This is the same location as previous years at the Royal Canadian Legion Branch 94.
We look forward to seeing you there and vendor tables are available for purchase starting now.
check out our facebook page and official website
Log into Facebook to start sharing and connecting with your friends, family, and people you know.
www.facebook.com
if you would like a vendor table please send me a message
Last edited: