I met Gigi Cheng (DA: *Foozyschtuff*) through my good pal Caramel Coffee (a TP member). Gigi was on a reality TV show last year called
Art Star
and is currently making a name for herself in the NYC art scene. A few years back she worked alongside CC for many loooong days and nights doing animation for Cartoon Network, and drank many cups of coffee in that time
She created a series of offbeat humorous paintings based on that experience, using people she knows as models. When she asked me to sit for a portrait, I was only too eager to say yes!
So here's me, looking deranged, apparently after having WAY too much coffee?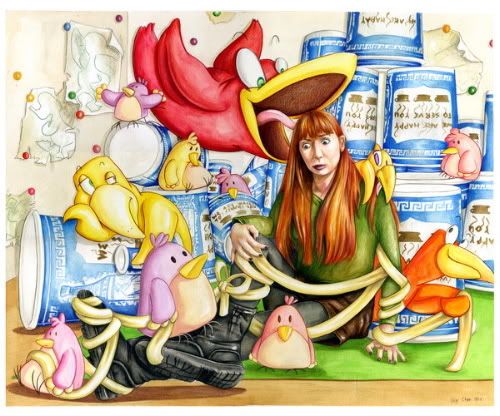 All the paintings feature different animals - I was lucky to get birds since they are my fave critters!
The blue/white coffee cups are standard deli issue in NYC - as representitive of the big apple as yellow taxis and skyscrapers. I believe Gigi actually painted in part with coffee to create the brownish tones.