Resident Pony Photographer
Joined

Jun 16, 2020
Messages

1,057
After I got a bunch of those charity shop ponies I finally had a new Pinkie Pie to upgrade one I had that just hasn't sat right with me. Also, I needed a tail for a new Pinkie who had theirs cut by the previous owner and I had been trying to come up with a friend for my OC Atmos for a while. However, it's not been going smoothly.
As I was trying to open up Cadance for that new tail not too long ago, my mum decided to help try to open up Pinkie Pie but she did it wrong. This has been fixed since (I think, won't know for sure until her head is on)

As I had been trying to come up with a friend for Atmos anyway, I had been trying to do some drawings of what this friend may look like. The base is Pinkie so maybe something that my posca pens could easily sit with. As well as ordering a new tail for Cadance I had also got a few other colours to mess about with. Two of those were purple and red and I thought they'd look good together, so purple and red it was. Here are just a few sketches I had done out of quite a few others: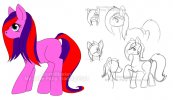 The final was one I did during the making of the next part was painting the body. I had also made a few other references for the character like on my reference sheet for my OC. The eye colour hadn't been decided until started painting. I tried to resist yellow eyes but it happened. I tried to also go off Cheerilee's eye design too. The eyes are always so hard to get right neatly. It was a real pain like always, especially the eyelashes

Since I didn't want this new pony to be just like Pinkie Pie or my previous pink custom Lucky Lily, I went with a lighter pink. I did also test a lilac-y colour but it felt a bit much on that body. I had also thought about making her a bit spotty or putting some markings on her but I resisted also because I always want to make a custom that could seem to easily go into my pony collection without standing out too much.
When it came to the rehair, I was unsure how to go about it with the colours and my pony design. I didn't want too much red but I didn't want it to look sort of plain either. This is how far I've gotten and comparisons to Pinkie with body colour and Cheerilee with the eyes, also with Atmos because friends-to-be:





At the moment with this new pony, I'm at a standstill. I'm not so sure how I want to progress with this pony and what to do about the hair. I also kind of want to restart half the rehair but we'll see. It's like you can't seem to go wrong with pony rehair and it may look fine once completed but it just don't sit right with me at the moment.
I'll continue this pony when I figure out a way