So Soft Pony, So hard to clean
Joined

Apr 25, 2012
Messages

2,013
Awards

1
Lulu from the Play Station 2 video game
Final Fantasy X
crafted from a generation 3 styling-sized 10 in. high unicorn, complete with all 6 of her dolls.
---SOLD---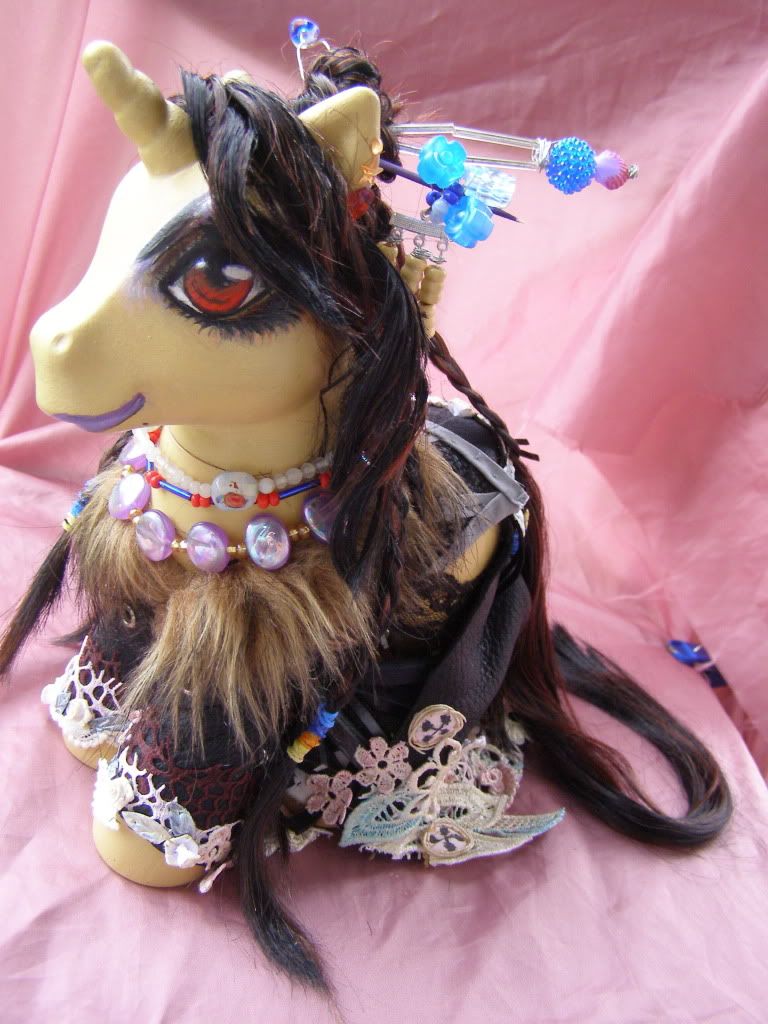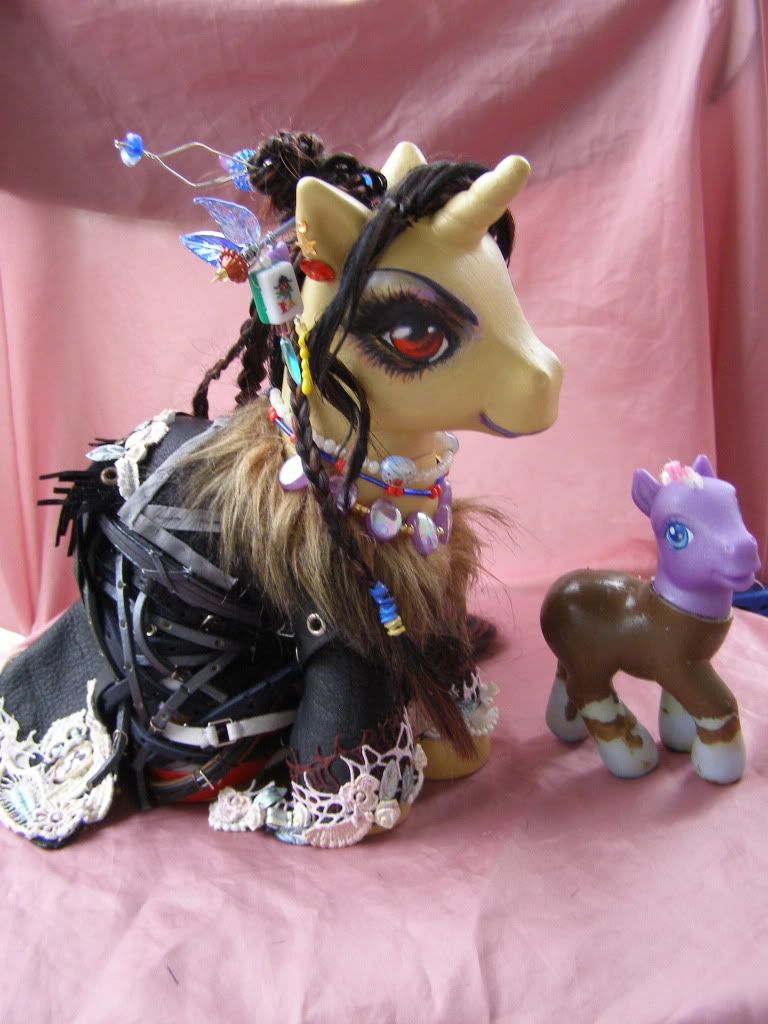 Production time for this is 2 weeks.
Dolls are crafted from the following bases:
fakies for the water moomba & cait sith, g2 McDonald's base for fire moomba, g3 McDonald's base for the onion knight, g3.5 McDonald's base for the moogle and a g4 McDonald's base for the cactuar.
Lulu has a hand-painted full body repaint in custom-blended antique white acrylics, eyes textured in realism techniques.
Here's a break down of production time:
1 1/2 days for all the painting.
1 day for re-hair job- approximately 5 packages of black magick dollyhair mixed with noir and dark cherry restoredoll hair. Hair is braided with blue and yellow rubberbands, head glued on over night for this day of work. Bangs permanently hardened in my hair gel method.
1 day for belt details/assembly- all constructed of authentic leather, hand-sewn, and used pliers to add all of the metal bits. Sewn to a larger piece of leather.
1 day for embroidery work on the train of the dress, all constructed of 3-4 layers of lace, ribbon, bias tape, hemp, all painted in antique white, light aqua and pale pink acrylics with a over-gloss of metallic champagne to tone down the pigments. All pieces hand-sewn to leather dress parts.
Train, sleeves, and corset were all constructed during this day- corset detailing is gray bias tape. Faux fur collar.
1 day for bead work- all wired together and consists of antique beads from the 1920's.
1 day for the moogle and water moomba. Moogle's re-haired in peaches & cream dollyhair, wings are from a rearing generation 3 McDonald's Starcatcher mlp.
Moomba is painted in matte blue acrylics, metallic, neon and turquoise glitter acrylics. Hair is waternixie dollyhair with the mane threaded through beads.
1 day for the fire moomba- all painted in acrylics, custom-dyed fur on chest and legs, tail is painted beads.
1 day for cait sith & cactuar. Cait sith is hand-painted in acrylics, whiskers are metal wire. Crown and boots are leather, kerchief is red bias tape. Cactuar had its original rear leg hacked off and I fixed in place a bent leg from another g4 mlp and custom-engineered it with wire to match the cactuar pose. All painted in acrylics, tail is key lime dollyhair and is pinned on through a green flower bead.
Last day was for the onion knight. Full body repaint in antique white acrylics, hood is off-white bias tape, orang helm is orange leather with black acrylic eye holes. Bead threaded through top of helm with a lock of yellow fever Hasbro dollyhair.
Boots, gloves, torso armor is authentic red leather, hand-sewn, detailed in yellow acrylics and yellow maxi piping. Cape, sword and shield are all constructed of armor, detailed in acrylics.
Regular-sized generation 3 pony base included in last photo for size comparison purposes. It is a patched-together bait that will be used for a Tidus custom.
Last edited: