My shoes are laced with irony
Moderator
MLPTP Supporter
Joined

Sep 2, 2013
Messages

8,121
Well the old saying goes when it rains, it pours. That isn't usually the case in Texas, where the drought has had us at the neck for about 7 years. Yesterday and today though, we had rain. Boy howdy have we had rain. So much so the place has flooded and about thirty small dogs had to be evacuated to another part of the farm. Luckily, I knew floods could happen here, so I'd built some dog pens on the high ground. We actually floated dogs in a raft, and the big dogs like the collies and such swam beside us as my son and I waded through. I should have taken pictures, but things were wild and there was no time. I was scared the smaller dogs would drown.
Photo heavy warning!
When we realised it was actually flooding and water was getting deep, we panicked because on of the barn cats had kittens under a pile of pallets and we knew two of the feral cats that had been dumped recently (people dump wild pregnant cats here all the time. Some I can catch and tame, some... forget it) had some under the house (we're hillbillies, we live in a big doublewide trailer, don't laugh! It's paid for. And falling apart already. Heh.) Anyway, I went to toss aside pallets to get the kittens, he crawled under and crawled on his hands and knees through the water and mud to rescue kittens. It was funny, he took a cooler and floated it in front of him to get to the kittens and used it as a little ark. They were under there clinging to the plumbing, poor babies! I might gripe about my son sometimes, but he will do anything to help an animal in need. It's just not usually our own animals.
Look at these drowned little rats we found.
Lucky we got to them all in time! Here they are all dry. Some are running because they're afraid I'll blow dry them more.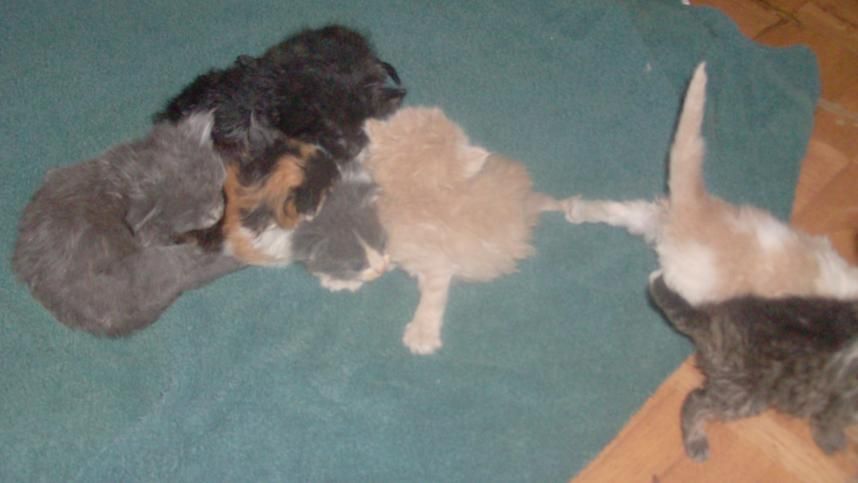 Here's one mom, Not a Cat Melvin (she honestly thinks she's a dog, she lives in a dog pen usually or in the barn). She's taking care of them all. By this posting one feral mom, has taken her three back, but this time to the barn where it's dry and safe.
What I did get on film was the horse evacuation. The big herd of ponies and the goats were to be moved to higher ground, but when I got to their pasture they were gone. Seems my llama Beth saw the water rising and decided to take matters into her own two toes. She pulled the gate pin and ushered the ponies into the pasture leading to higher ground. My neighbour actually watched her do it. He was going to go help her, but she didn't need it. I knew she could open the gate because she's done it before, but this shows a keen intelligence to me. She knew the smaller animals were in danger and got them out of dodge. He said they all just marched through once she opened the gate and bellowed at them. Llamas can make a weird trumpety groan, I guess it means, "Move your butts!" Usually the goats try to ignore her, but Leroy said they all seemed to know what was happening and acted accordingly.
Here's the horses and their ponies. These pics are murky because it was dawn and raining.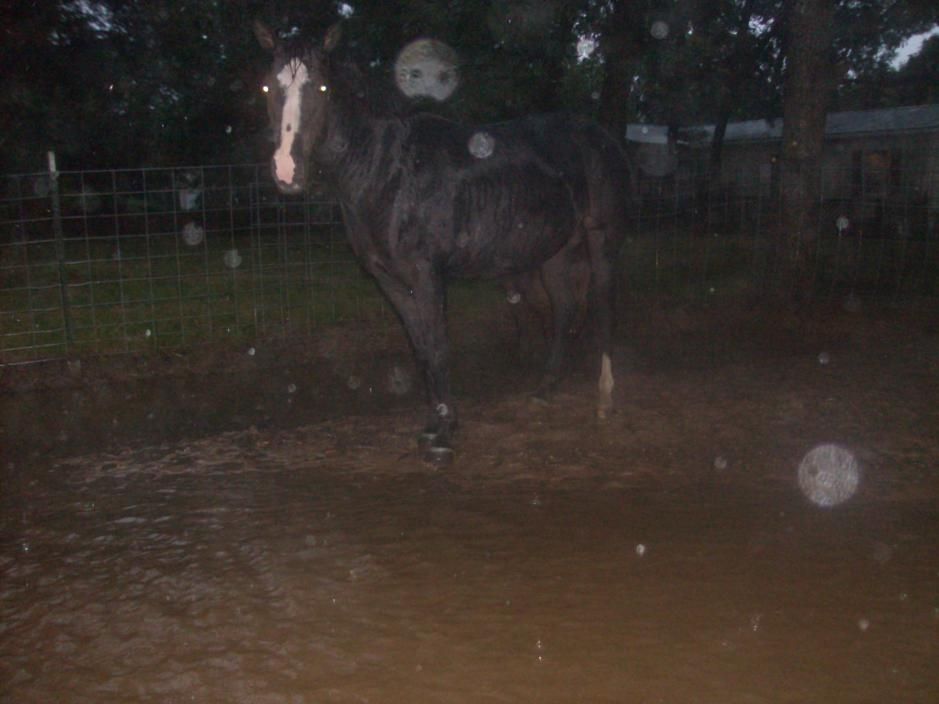 This is Stormy. She's on a small patch of un- submerged land, the water rushing by her.
Stormy refuses to allow our pony Studmuffin on her little island, so he's heading to me.
Poor Candy, our 30 year old pony is knee deep. I had to lead her the long way through the creek, because she couldn't make it the way my son went.
Follow me if you want to live! My son leads the horses through water that at one point is up to his waist (terrifying to watch as a mom!) to get to high ground). That big red butt belongs to our gelding Boss and you can barely make out Studmuffin and Candy. Candy couldn't make it that way in the end and had to go around.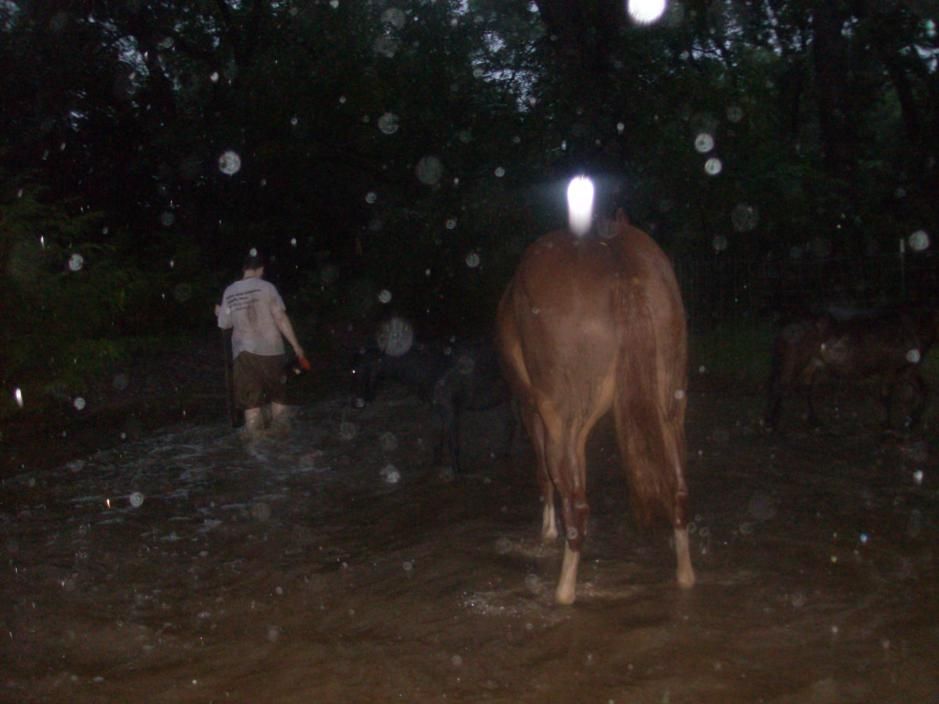 Lookit my driveway. This is why I can't get my mail or send out packages!
Wanna go swimmin'?
Wow. My kid is a paleskin. You can tell his daddy was English. Heh. "Please, mom. Can't we go in?"
So we did. And here we'll stay still the rain stops or we float away!
Last edited: