Resident Pony Photographer
Joined

Jun 16, 2020
Messages

1,001
I had one of the best charity shop scores earlier last week. G3 ponies are one of my favourites, they were my gen of ponies and I found some! Not only that but I can cross off a childhood want pony from a list… Brights Brightly!
The first charity shop I went in had Mane-iac Mayhem. I was surprised, I never expected to find her ever at all. She is not a pony I would have considered picking up but there you go, she had me. I also found a Cadance too

G4: Princess Cadance and Mane-iac Mayhem
I then went to the next charity shop, found nothing but the third one… that's where the magic was found. Here is who I got: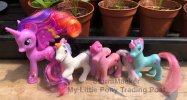 G4: Princess Twilight Sparkle
G2: Light Heart, Sweet Berry and Ivy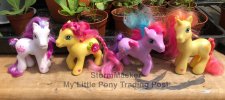 G3: Royalette, Royal Boquet, Windy Wisp, Brights Brightly
I didn't know who Royalette was but she is very pretty. I don't think I was too taken by 1998 McDonald's G2 ponies but after seeing them in person, I had to get them. I like Sweet Berry's pose and they almost remind me of donkeys somehow.
Since the hair on all these were in pretty good condition I knew cleaning would be a breeze. Windy Wisp however had something gross all in a streak in her mane and a big drop behind her wing. When cleaning, it looked a lot like blood which made me very uncomfortable so I knew I had to clean her first. I hope he isn't cursed. None of these have any sign of tail rust so I ruled that out. Whatever it is has sort of stained so I need to take her head off and give it a soak in case it's gone inside the hair plugs and try to remove any more off the hair. Also, Mane-iac has a bit of hair cut in the middle on one side but I'll pretend that is from a battle
Anyway, onto the 'after' shots: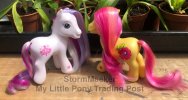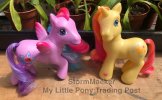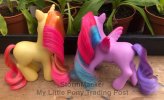 I did try to replicate Mane-iac's tentacle-like hair by sectioning it out into different curls but that didn't land properly so I did what you see there. I also love how smooth the hair ended up becoming, especially Royalette's. I also did consider in the beginning giving back Royal Bouquet's plait from her previous owner in her hair but decided not to. Lift Heart has some old battle scars of some sort. I did not know McDonald's Lights Hearts were painted
Bonus:
A pony I could not also buy because I didn't have enough money on me… Wind Drifter
in her tin.

EDIT:
Wind Drifter has gone. I wish her the best times in her new home
Last edited: