Small blue Pegasus
Moderator
MLPTP Supporter
Joined

Oct 18, 2017
Messages

4,407
Here's a list of ponies I still need and are on my hunt list.
I am a G1, G4/4.5 & merchandise collector.
This list is forever changing and being updated.
If you have something that you think I may be interested in please don't hesitate to comment or send me a dm.
Adoptable by Truly_Scrumptious
Acceptable Flaws:
I am looking for good condition
G1
ponies. I am
okay
with ponies whose hair needs work - I will also re-hair if need be. Initials on hooves (if not visible) are okay. A slight hair trim or a pony's whose hair has faded to white are both fine and don't require re-rooting.

I am slightly more picky with G4/Reboot/G4.5, I don't re-hair these ladies so hair that I can brush and treat is best. If it's a SDCC exclusive I prefer MIB but may take open stock if in good condition.
Unacceptable Flaws:
No "bait" condition, no extreme hair cuts/missing plugs, n

o missing bits (ears/wings/limbs/whatever), no non-removable marks/imperfections(cancer, regrind, etc), no "pucker butt", no sticky/plasticizer oozing, please NO smoke smell.

Basically if the pony is in display condition I will likely take if if I am buying.
​
My Pretty Pony (complete wish list):
Peachy (white)

Peachy (pink)

Accessories for Butterscotch (Brush, Blanket & Hat) **
G1 (complete wish list):
1) Baby Ponies:
Baby Pockets

Baby Brightbow

Baby Rainribbon

Baby Lucky Leaf

Bunkie (yellow twin)

Sandcastle (yellow twin)

NB Wiggles
2)
Unicorns:
Boysenberry Pie

Dazzleglow (Normal & Blue Hearts Variant)

SS Gusty

TE Mimic (lol wishful thinking - i r funny)

TAF Buttons

SB Coco Berry

DnP Twirler
DnP D.J.
3.
Pegasus:
Blueberry Baskets
Sugar Apple
TE Locket
TAF Yum Yum
HT Tall Tales
PP Lavender Lace
4)
Other Ponies
(Random ones I love)
:
TE Quackers
MM Mirror Mirror (upgrade)
5)
Big Brother Ponies:
Daddy Celebrate
Sunburst (Mountain Boy pony)
Fireball (Mountain Boy pony)
Tornado (Mountain Boy pony)
Ice Crystal (Mountain Boy pony)
Thunder Cloud (Mountain Boy pony)
Baby Leaper
Baby Brother Apple Delight
Daddy Apple Delight
Baby Brother Bright Bouquet



5) Pony Friends (aka: My Little Pony Tales):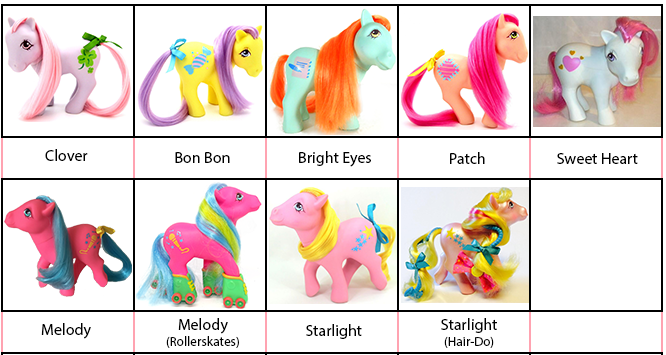 Clover
Bon Bon
Brighteyes
Patch
Sweet Heart
Melody
Starlight
7.
Accessories/Dragons/animal friends:
Fiery
Sparks
Spiny
Oakley (moose)
Cutesaurus (dinosaur)
Edgar (elephant)
Cha Cha (llama)
Nectar (panda)
Leafy (calf/cow)
Salty's bandana, hat & frog brush
Tex's bandana & grasshopper brush
Slugger's helmet, bandana & grasshopper brush
Chief's bandana & helmet/hat & race car comb
Quarterback's bandana & pink grasshopper comb
Steamer's bandana & hat
Wigwam's bandana & race car comb
Tux's White Bow Tie
Princess Royal Pink's Cape
Princess Royal Pink's Crown x2
Wand (light blue, dark pink & Aqua)
Damsel Hat (Pink w/ blue ribbons)
Princess Comb (Yellow, Blue, Purple & Pink)
Crown Clip (Pink, Blue)
Sea Pony Seashells (Green, Pink & Purple)
8. Basic Fun Repro Ponies (Classic & 35th):
Glory
Moondancer
Sunbeam
Twilight
Firefly
Medley
Seashell
Confetti
Pinwheel
Starflower
Trickles
2019 SDCC Exclusive: Majesty (much need)
G4 (G4.5) Non-Mane6 (working to complete this wishlist):
Silver Spoon
Twist-a-loo
Rainbow Flash (International exclusive)
Starswirl
Daisy Dreams (fashion style - Rainbow Power)
Trixie (Pony Wedding Invitation Non-Glitter Cutie Mark)
Sunset Shimmer (Masquerade)
Derpy (2011 Comic Con exclusive)
Maud Rock Pie (Pony Mania TRU Exclusive)
Princess Celestia (Pony Mania-small TRU Exclusive)
Queen Crysalis (Pony Mania-TRU Exclusive)
Princess Luna (Shine Bright Reboot)
School of Friendship: Ultimate Equestria (Fashion Size Reboot Set - not pictured)
Sea Ponies:
Queen Novo****
Silverstream (Hippogryph)******** (School of Friendship: Kindness Lesson) MIB
Sandbar (School of Friendship: Loyalty Lesson) MIB
Mane 6 G4 (reboots) Ponies I still need:
Applejack (fashion style prefer w/accessories)
Applejack (fashion style Rainbow Power)
Applejack (Seapony)
Applejack (Seapony Land & Sea)
Applejack (Seapony - fashion style)
Applejack (Rainbow Roadtrip: Reboot Styling Pony)
Fluttershy (pink glitter wings & posable)
Fluttershy (Large 8.5")
Fluttershy (ribbon in mane)
Fluttershy (Rainbow Rocks Pony - no doll)
Fluttershy (Rainbow Power Neon)
Fluttershy (Reboot fashion style)
Fluttershy (Rainbow Roadtrip: Rainbow Lights)
Fluttershy (Rainbow Roadtrip: Reboot Styling Pony)
Rainbow Dash (Glimmer Wings)
Rainbow Dash (Crystal Motion - Blue Glitter Wings)
Rainbow Dash (Pony Mania)
Rainbow Dash (Reboot fashion style)
Rainbow Dash (Pirate Flip n Whirl)
Rainbow Dash (Glitter - Elements of Friendship)
Rainbow Dash (Seapony - Land & Sea)
Rainbow Dash (Seapony - Flip and Flow)
Rainbow Dash (Rainbow Roadtrip: Reboot Styling Pony)
Rarity (Glimmer Wings)
Rarity (Crystal Motion)
Rarity (Rainbow Power w/yellow/green in hair)
Rarity (Rainbow Power Neon)
Rarity (Cutie Mark Magic Ribbon)
Rarity (Glitter - Elements of Friendship)
Rarity (cutie Mark Magic Friendship Flutter)
Rarity (Explore Equestria poseable)
Rarity (Explore Equestria Fashion Sized poseable Eyes blink)
Rarity (Seapony)
Rarity (Seapony - Fashion Style)
Rarity (Reboot fashion style)
Rarity (Rainbow Roadtrip: Reboot Styling Pony)
Pinkie Pie (Reboot fashion style)
Pinkie Pie (Rainbow Roadtrip: Magical Salon)
Pinkie Pie (Rainbow Roadtrip: My Baby)
Pinkie Pie (Rainbow Roadtrip: Styling Pony)
Twilight Sparkle (Through the Mirror- Walmart Exclusive - small)
Twilight Sparkle (Singing w/ Spike)
Twilight Sparkle (Seapony)
Twilight Sparkle (School of Friendship: Principal Twilight)
Twilight Sparkle (Rainbow Roadtrip: My Baby)
Twilight Sparkle (Rainbow Roadtrip: Styling Pony)
The Magic of Everypony (Target exclusive Fashion Size Reboot)
School of Friendship Fluttershy & Starlight Glimmer set
School of Friendship Fluttershy & Silverstream set
School of Friendship Rainbow Dash & Sandbar set
Rainbow Roadtrip: Friends of Equestria set (one with Minty and the Princesses and Spike)
Rainbow Roadtrip: Mane 6 Baby Ponies
--------------------------------------------------------------------
Equestria Girls (in box preferably):
Pinkie Pie (Rainbow Rocks Rockin' Hairstyles) (MIB) ***
Pinkie Pie (Through the Mirror w/pony)
Rarity (Rainbow Rocks Rockin' Hairstyles)(MIB)
Twilight Sparkle (Through the Mirror w/pony)
Mane-iac Mayhem (2014 SDCC Exclusive) (MIB)
Sci-Twi (2015 SDCC Exclusive) (MIB)
Queen Crysalis (Ponymania Toys-R-Us Exclusive) (MIB)
Equestria Girl Mini's: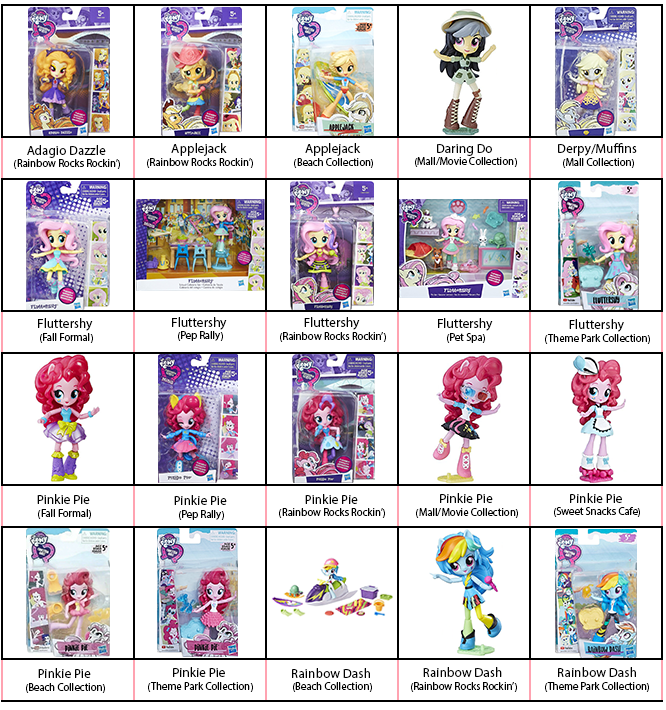 Adagio Dazzle (Rainbow Rocks Rockin')
Applejack (Rainbow Rocks Rockin')
Applejack (Beach Collection)
Daring Do (Mall/Movie Collection)
Derpy (Mall Collection)
Fluttershy (Fall Formal)
Fluttershy (Pep Rally)
Fluttershy (Rainbow Rocks Rockin')
Fluttershy (Pet Spa - MIB preferred)
Fluttershy (Theme Park Collection)
Pinkie Pie (Fall Formal)
Pinkie Pie (Pep Rally)
Pinkie Pie (Rainbow Rocks Rockin')
Pinkie Pie (Mall/Movie Collection)
Pinkie Pie (Sweet Snacks Cafe - Just doll)
Pinkie Pie (Beach Collection)
Pinkie Pie (Theme Park Collection)
Rainbow Dash (Beach Collection - MIB or doll w/Tank)
Rarity (Rainbow Rocks Rockin')
Rarity (Beach Collection - doll/MIB good too)
Starlight Glimmer (Mall/Movie Collection)
Sunset Shimmer (Pep Rally)
Sunset Shimmer Rainbow Rocks Rockin')
Sunset Shimmer (Mall/Movie Collection)
Sunset Shimmer (Rollin' Sushi - just doll is good but MIB also good)
Sunset Shimmer (Beach Collection)
Sunset Shimmer (Theme Park Collection)
Twilight Sparkle (Pep Rally)
Twilight Sparkle (Beach Collection)
Twilight Sparkle (Theme Park Collection)
Trixie Lulamoon (Mall Collection)
Other G4/Spike/Reboot/G4.5 Stuff:


2016 SDCC Exclusive: Discord & Fluttershy***
Guardians of Harmony: Cutie Mark Crew Set
Guardians of Harmony: Tempest Shadow (pony only)
Guardians of Harmony: Stratus Skyranger
GoH: Pirate Twilight
GoH: Pirate Fluttershy
GoH: Boyle
GoH: Captain Celaeno w/Spike
Fan Series: Tempest Shadow and Twilight
Fan Series: Trixie Lulamoon and Starlight Glimmer
Cutie Mark Crew Figures!! Most interested in Pony/Sea Pony/Spike/Dragons/Random creatures versions of all character variants in all "seasons" of the CMC blind bags. (Super love on flocked and sparkly ones.)
Cutie Mark Crew: Sugar Sweet Rainbow Set
Cutie Mark Crew: Confetti Part Countdown Set
CMC: Snow Day Set
CMC: Sightseeing Fun Set
Last edited: