Proud Owner of Cat Pee Pony
Joined

Dec 24, 2010
Messages

5,483
Tulagirl's Okay Super Silly Creepy Photo Thread that you can post anything in though. A regular doll/toy you want to share or a creepy one!!

I will be adding photos as often as I can of things I have for fun. You can add your photos too. This is the Creepy thread. What fun we will have scaring each other with oddities from our collections whatever they are...or whatever we have. It is also fun to just share something fun you found even if it isn't creepy per say.
So, I got this old doll. Her name is Toodles. She is from 1960 I think. Okay so anyway she has what is called Flirty Eyes. I am not sure why ponies never had these it would have been the subject of many an 80's child's nightmares.
Anyway...
Toodles moves her eyes to the left, dead center and the right depending on how you move her. The only thing I can't figure out is how she is moving from the left to dead center when only I move????????
She is a Twilight Zone kinda gal, I love her though she is super fun. Could you handle it? Or will she give you nightmares? Tee hee:vampire:
Toodles by American Character Circa Date 1960 22 inches
She is trying to tell you somethin' can ya hear it from there?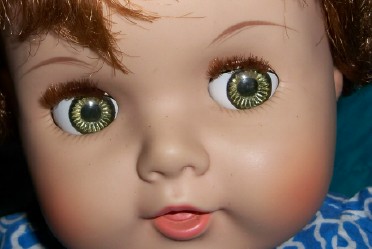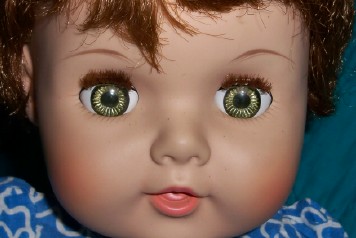 Last edited: