Resident Pony Photographer
Joined

Jun 16, 2020
Messages

1,057
I found this fakie in a charity shop when I got a bunch of ponies the other week. I had never seen one in person before, only in pictures, and I think they're so entertaining. I just had to get it!
I still had some orange hair left from when I redid my first custom and first rehair a couple of years or so ago that I needed to use up so it was the perfect time to use it. I don't have a great "before" picture of the whole pony but there is one I took when warming the pony up to behead, a pony floating in despair of what's to come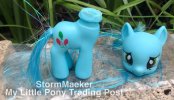 Like fakies do, their hair is usually really easy to pull out with a tug which is what happened here. I kept the hair because it had tinsel in it. Also, who knows if I could reuse it.
It's a known fact fakies tend to have one row of hair and a weirdly rooted tail. I prefer to make a new tail hole like proper ponies do and fill in the holes the best I can using puffy paint. The smallest drill we have though is a bit big meaning Quiver would have a very thick tail. Also, I added another row for hair. When I finished putting new hair in, I had to add a few more at the front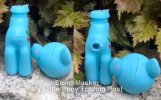 The fakie cutie mark didn't come off completely and is was faintly visible. I didn't want to paint the body but I had to cover it. I failed, wiped off the paint and left it as it is hoping the new cutie mark will distract from it. Also, that is now a birth mark on the back of the ear.
Here is Quiver Leaf!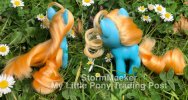 The leftover hair I used was all a big mess from the last time I used it. I had made a mess of it all tangled up and left no thought for future me who might have a problem untangling. I think I must've thought "I'll figure out how to sort this in future, I'm done for now" and put it away. Once I finally did sort it all out, I used it on the tail and the start of the hair then opened the second pack I had which was a lot easier to use and is why the top of the tail is a bit raggy. The hair feels a bit long but if I can't get used to it, I'll trim it
The only cutie mark that just felt like the right idea with a pony like this was leaves. I had a feeling a similar one was used in G4 but no matter how much I searched, I couldn't find one just like it. I feel it could be a lot better but the body is so tiny.

The photo session got a bit much for Quiver Leaf in the end. I had taken 17 pictures and most of them are the same anyway. Sorry, Quiver