Resident Pony Photographer
Joined

Jun 16, 2020
Messages

1,057
Lucky Lily, the custom, has been finished! Jump straight to the
post
!
I wasn't going to do another custom after Heart Break (
her post
if interested) but I still had the hair and there has been a G3 fakie laying in a local charity shop for what feels like since last year (maybe actually start of this year though) so I thought I'd better use the hair.
The fakie was pretty horrible to touch and also full of marks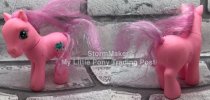 Even though I cleaned her up, the red marks wouldn't go away. She looks like she's been beaten up…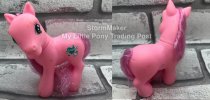 Then it was time to remove the painted stuff. The eye paint was strangely thick and the symbol was all flakey. Not all of the eye would come off but that's fine, I can have a template. For some reason, there are faint marks where the hair plugs should've been but the fakers decided to not follow those at all. I might poke new holes but I have to make a new tail plug too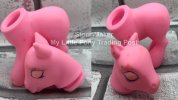 The only hair colours I have left over from Heart Break are yellow, green and orange. Green seemed to fit well but I would need to colour over all those red marks

This combo was giving me watermelon vibes or something else and the eyes seemed quite ghostly. I honestly have no ideas for her at the minute.
Everything was going very well and normally if that happens with me making something, I know
something
will go wrong. The coat is all smooth, the sealant is all smooth… and then I dropped the head when it was still tacky and dirt got stuck all over the side of the face.

So, I had to do it all over again. Also, I accidentally touched her leg when it was still tacky and had to go over it again. That leg is no longer smooth anymore
This is how she is at the moment: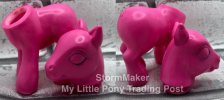 She now gives me lily vibes so maybe I'll do something like those? If I do, I could give her freckles like the inside of a lily… we'll see
I'll post updates when I go back to it. I should've filled in the tail plugs and make the new hole before doing the body colour and the hair plugs too… I'll figure it out
Last edited: