Its a berry, its a cherry? No, Its a Strawberry!
Joined

Dec 29, 2012
Messages

1,455
Today we emptied our storage building to clean and organize it since we havent in probably 15 years. Unfortunately I found my poor flocked fakies somehow made their way to the building by mistake. They were in a bag and mice had infiltrated the whole thing. My poor babies. T_T accidents happen, it wasnt anyones fault i guess hindsight is just 20/20 we shoulda cleaned before now I guess.
Theyre so baddd. Ive never even had ponies in my possession this bad. Not to mention any of my childhood ponies. Its heartbreaking.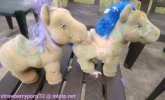 And of course i couldnt wait and got them in a bath!!!

The flocking started to come off the blue ones head and neck a bit, but everywhere else is still holding on with both of them.
After a thorough scrubbing, they look like this.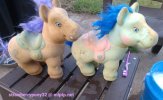 So, an improvement but now im not sure what to do. Im torn. I wish I could salvage the flocking I could but with the blue one i cant for its head. So im not sure, i guess im gonna have to deflock its head but maybe I could salvage the body and reflock the head, but idk if it would match?
Does anyone know of any super fine flocking to buy? Its super fine like powder.
The purple one i think could be salvaged and patched if i could just get the mildew off her face. Does anyone know how to get mildew out of flocking?
I know most things listed for treating flocked ponies but i havent seen anything about mildew?
For anyone with experience,how do you prefer to remove staining in flocking?
Thanks yall