Small blue Pegasus
Moderator
MLPTP Supporter
Joined

Oct 18, 2017
Messages

5,947
If you haven't already read the rules and signed up for our annual swap please see the official post here before adding to this board.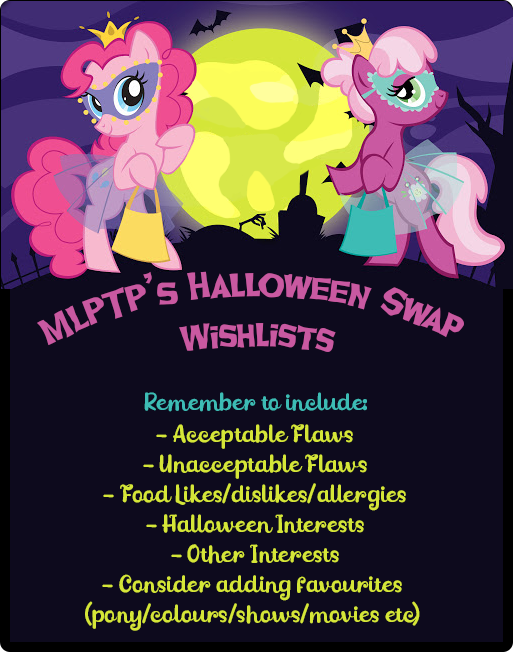 MLPTP WISHLIST TEMPLATE:
​
Please use this template when creating wish lists so things don't get missed and you don't end up with an item that may disappoint.
Remember the more information you can give to your partner the better.
My Little Pony items wanted:
(List or link to all of your MLP wishes here)

Acceptable flaws:
(examples: hair trims, frizzy hair, missing hair plugs, marks on the body, pindot mold, inground dirt, paint wear, chew marks or other body damage, odors, broken mechanisms, "pony cancer"-- be as specific as you can!)

Unacceptable flaws:
(examples: hair trims, frizzy hair, missing hair plugs, marks on the body, pindot mold, inground dirt, paint wear, chew marks or other body damage, odors, broken mechanisms, "pony cancer"-- be as specific as you can!)

My favorite pony/ponies:
(Include as many as you like, from any generation--be specific!)

I have an "army" of this pony and would accept one in ANY condition: ___________________(Generation ______ )
( Yes / No )

Candy or Snacks that I like:

Things I am allergic to:
(example: food contents, pets, contents in makeup/jewelry/candles/etc.)

Please do NOT send me:

Things I like that are associated with the swap theme:
(examples: Colors, movies, iconic holiday items such as snowmen or reindeer, pumpkins, etc)

My favorite color(s):

I would be happy to receive scented items:
( Yes / No )
(If yes OR no, include any preferences)

Other things I like:
(examples: Movies, TV shows, other collectibles, crafts, hobbies, certain animals, decor, clothing, jewelry, etc. Be sure to include things like clothing sizes!)

I would be happy to receive a handmade item in my swap box:
( Yes / No )

I would be happy to receive a custom pony in my swap box:
( Yes / No )
(If yes, include any preferences)

I have a pony persona that I would like artwork or other items featuring it to be included:
( Yes / No )
( If yes: My persona information can be found here: __________________ )

I would be happy to receive goodies for my pet(s) in my swap box:
( Yes / No)
(If yes, include specific preferences)​