Small blue Pegasus
Moderator
MLPTP Supporter
Joined

Oct 18, 2017
Messages

5,401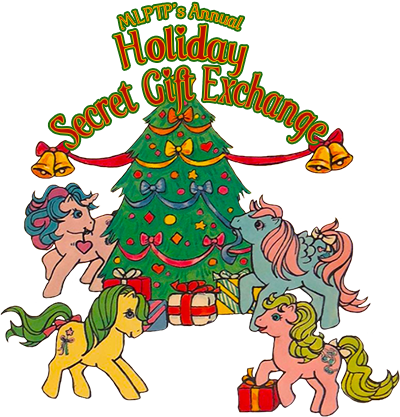 This has been lots of fun every year so we hope you'll join in the fun!




How does it work?
​
There are 2 spending categories for this swap, option #1 is $45-$75 (including pony/ponies and extras), option #2 is $75-$100 (including pony/ponies and extras). These amounts do not include shipping costs.

You must include at least one pony in the items you send.
All items must be wrapped. Think about it... how FUN is it to unwrap gifts?
Delivery confirmation (domestic) or receipt of sending (international) is required! This way if something is lost, we're not mad at you, but it will be the post office's fault. Be sure to package your swap box for a safe secure delivery!
When you receive your gift you must post a thank you brag in the Show n Tell thread. So please include a card or note in your package telling your swap partner who you are.
When shopping for ponies, keep in mind that ponies should be in great condition! Send a package that you would be thrilled to receive yourself.

Requirements to join:
​
3 months of

Active

Membership at MLPTP. (Meaning you've interacted on the forums with in the last 6 months prior to this post.)

Minimum 16 years old.

Minimum of 200 posts.

Minimum 5 references OR TP feedback OR TP feedback for 2 successful swaps in the past. Refs must be from trades or people you've sold to!

You must not have any Negative Feedback on your profile.
MLPTP Swap Etiquette to Follow:
​
Ensure the items you've purchased are well packaged and secured for shipping. This includes using a good sturdy box to ship in. (Remember postal services can be very rough with packages!)

​

Remember to post your brag once your box has arrived to you.

​

Remember to include a card and let your partner know who your are.

​

Once you've received your box, leave feedback on your partner's profile.

​

If you have any concerns with ANYTHING you MUST contact myself or another mod. We will always work together to come to a fair and decisive conclusion.

​
2021 accommodations * Please read *
Given the circumstances of the last couple years, we have decided to start the sign ups for this swap earlier than usual. We want to give members time to shop and deliveries time to get to their destinations. The holidays are already a busy time of year for the postal systems and this may be exacerbated by several factors this year. Therefor, I want to stress the importance of the deadlines listed below and importance of communication. Everyone who signs up and sends a package should be able to also receive a package in a timely manner. If you happen to be shipping abroad you will have 3 weeks, say a week to order ponies, 2 weeks for them to arrive and then ship. Within the country you will have 4 weeks. If you are not confident you can have your package shipped by the deadline, please think twice. There will be other fun festivities to participate in, in the next several weeks. We understand things arise and some things can't be controlled, that's okay but we also want everyone who participates to enjoy the swap and be assured to have their gifts before the holiday. If for any reason you run into issues you must communicate with me so we can work it out. Failure to ship by the required deadline or communicate issues in a timely manner may result in a negative feedback. I don't want to put a damper on anyone's fun but we want to make sure the swap is fair and fun for all who participate :santasmile:




How to register?

Send a message to @Skybreeze by copying the form below.
MLPTP Swap Registration Form:
​
MLPTP Member Name

Swap level 1 or 2?

Where can I check your feedback? (MLPTP or references)

Full Name and Mailing address

Will you ship internationally?

I, ______ acknowledge that I have read and understand the rules, etiquette and my responsibilities in joining an MLPTP holiday swap.


Wishlists:
​
Once you're accepted into the swap,

post your wishlist here ASAP

! everyone is gonna be ready to get shopping:

Wishlists need to be for at least 15 ponies (or more), or at least close if you can only think of, say 12.

Then list other things you're interested in.

Let us know which flaws are totally unacceptable to you.
Let us know which flaws are ok with you.

Let us know if you are a G1/G2/G3/G4/G5 mint in box collector.

List any allergies you might have, as well as your likes or dislikes. Since sending extras is part of this, you want to make sure you receive something you will thoroughly enjoy.




You must PM me when:

​
You get your swap partner to confirm you've seen my message.

​

You mail your package (you must include tracking info)!!!!!!!!!!!!!!!

​

You receive your goodies.

​

Whenever there are any issues or delays!!!!!!!!!!!!!!!!!!!

​
Important Dates:
​
Signups :

CLOSED

​

Swap partner assignment : Nov 8th Assigned ​

International Shipping Deadline: December 6th All Shipped​

Domestic Shipping Deadline:

December 13th

​




Members Participating:

@Skybreeze
Shipped
Received
@Sassarazzmadazzles
Shipped
Received
@Tak
Shipped
Received
@GracefulSlumber
Shipped
Received
@Icey_Flowerswirl
Shipped
Received
@Uftaki
Shipped
Received
@MustBeJewel
Shipped
Received
@Gypsy
Shipped
Received
@Recyclebella
Shipped
Received
@JadeCade
Shipped
Received
@darcerin
Shipped
Received
@skig
Shipped
Received
@Gingerbread
Shipped
Received
@Skycakes
Shipped
Received
@AzaleaArt
Shipped
Received
@friendshipgardens
Shipped
Received
@Cactusflower
Shipped
Received
@icecreamgirl
Shipped
Received




Check out these links to our previous MLPTP Holiday Swaps!

2020
~
2019
~
2018
~
2017
~
2016
~
2015
~
2014
~
2013
~
2012
~
2011
~
2010
~
2009
~
2007
~
2006
~
2005



Last edited: